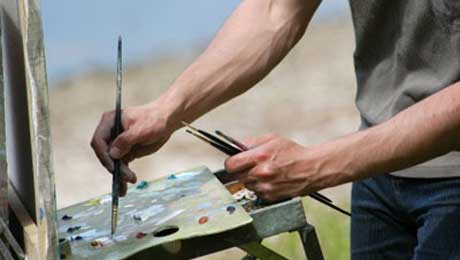 392 Artist Inspiration
Yuri talks about the process he goes through in making a painting.
Shirley:
So Yuri, can you tell me a little bit about your
daily routine
as an artist? What's the first thing you do when you're getting ready to paint?
Yuri: Basically I get up in the morning, and as soon as I'm ready, I go to my room, which is my painting room, my atelier, and I work. I do sketches or I work on a painting is on progress.
Shirley: Okay, and how do you get an idea for a painting?
Yuri: The idea can be from anything. It can be from my little doodle on a piece of paper, from movies, a lot. Or... very often I get ideas, actually from the country where I'm living at the moment.
Shirley: How do you progress from that idea to getting it on a piece of paper or a canvas?
Yuri: Well, if I have an idea, which I'm more or less sure what it is, of what it's going to be, I start a sketch on the canvas. And from then on... often the painting can change daily.
Shirley: So you sketch using, what, a pencil, or?
Yuri: I use some kind of pencil, charcoal, and from then on, I work on colors.
Shirley: So you sketch the painting and then you go straight into oil, or something?
Yuri: Yeah, usually in oil. Sometimes, I do the background with acrylic. It's quicker.
Shirley: Do you have to kind of prepare the colors before you start to put them on the canvas?
Yuri: Well, in my art, I prepare everything by myself. I prepare the canvas. I stretch it. Sometimes I even mix the color by myself.
Shirley: What does that mean, you prepare the canvas and stretch it?
Yuri: I have to get the canvas, sometimes can also be some old bedsheet, and I prepare it with some special material. I put on stretchers, they're made of woods. I use it some special tools, and then I start the work.
Shirley: So how long does it usually take to complete a painting from the initial idea to the framing at the end?
Yuri: It varies. Sometimes can take me a couple of days. Sometimes can take me up to a month.
Shirley: Why would there be that difference?
Yuri: Size. Also, what I'm intending to paint. Like sometimes I do some painting very, very fast. Energetic, which are usually the faster one. If I really work on details, then it can take very long time.
Shirley: Can you explain how you think up names for your paintings?
Yuri: Oh, that's interesting because, sometimes I have the title before the painting. I think of something, or sometimes can send me a word, or I read something on a book or magazine. And some that I got the idea for a painting. It's like a flash. And from there on, I work on a painting.
Shirley: And if you just work from an idea, how do you think of a name at the end?
Yuri: It can be a big battle, because I can find 25 different names. And sometimes I ask my wife, friends, or sometimes I even change it.
Shirley: Oh that's really interesting. Thanks.
Yuri: You're welcome.