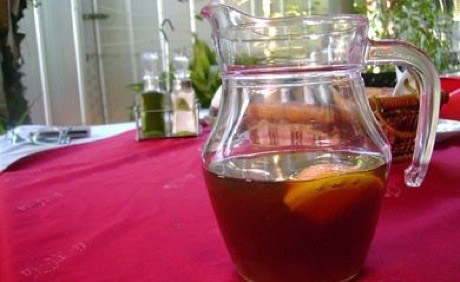 1205 Chi Cha
Daniel talks with Olga about Chi Cha, a popular drink in Chile that is like wine.
Transcript
Audio Slideshow
Vocabulary
Olga:
So I really want to try chicha.
Daniel: You should.
Olga: Is it like wine? I heard like wine in Chile is really good, so is it any similarity to it?
Daniel: Well, it's a bit lighter than wine. You don't get the color of red wine. It's not as strong as red wine but it also is much nicer because it's sweet and it tastes more like juice but it has alcohol in it.
Olga: Then it should be a really young like wine right?
Daniel: Yes it is.
Olga: Oh, I see. And, you know, how many degrees of alcohol does it have? Is it really like strong?
Daniel: I don't think, we haven't measured it because it's really, we don't produce it in any companies.
Olga: Oh, I see. It's like a nice traditional drink?
Daniel: It's a traditional drink but it's pretty much, it's really similar to wine. It's not that stronger.
Olga: And do, you know, housewives in Chile make it like in their own house?
Daniel: Yes, yes.
Olga: Oh cool.
Daniel: You can actually go to some places. There are some famous places you can go and you can see how they make it.
Olga: Is it really a hard process?
Daniel: I've heard it is so if you don't know how to do it, it will just stay as juice.
Olga: And I guess they don't sell it in Santiago, right?
Daniel: No we don't.
Olga: Only, you know, in the countryside?
Daniel: You have to go to the countryside, yes.
Olga: Oh, I see. Well I would like to taste it so get it for me next time, right?
Daniel: You have to come to Chile and get it for yourself.
Olga: OK, I will.

Audio notes are simple, spoken, downloadable explanations of key vocabulary and phrases from the audio. Learn more about them at the
audio notes tutorial page
here.