Views #1450 | Low-Intermediate 4
A to Z of Free - Tech Tools for Teachers
Todd talks with Meg about over 30 free tools teachers and students can use for teaching or business presentations.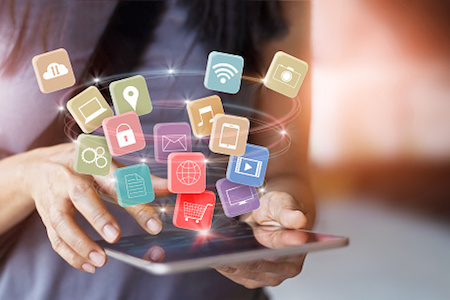 Meg
: Hey, can you tell me a little about the Ed Tech course?
Todd: Yeah, sure. It's a five week course and we go over a bunch of free software tools, and we go from A to Z of free, so basically one software for every letter of the alphabet, and there are five modules, like you make five things in the course.
Meg: Wow, that sounds great. So what can you make?
Todd: Well, in Module 1, you make what is called an LMS, like a learner management system and we use Blogger as the main thing and with Blogger you can create a basic class page, and we also use Audacity to record audio and we use Canva to make some really cool visuals, some images for the website, and then we use Drive to store files, and we can use Google Docs for documents, but we can store the audio on Google Drive so students can listen to it, and we can link that to Blogger, and then we use Evernote for organizing lessons to make lesson plans or share homework assignments with students, and then we also use Google forms to make quizzes, so the students can do self-graded quizzes, or teachers can give polls, so it's a lot of fun. Those six tools in the first module, they make a really nice web page.
Meg: Wow, that sounds great. How long does it take to complete the first module?
Todd: It's a week long, but a teacher on their own could probably do all the lessons in under two hours, and there's also exercise files and stuff to help them along to save them time.
Meg: Hm, useful! What about Module 2?
Todd: Module 2, that is digital downloads, and so basically you make a website, using HTML, so we handcode a site, and HTML is actually really useful, and really easy to learn, and we are going to make a little idiom website to learn idioms, and make like little memes. So we use Flickr to find some pictures, and then we use Gimp to edit the images, and Gimp is kind of like Photoshop, but it's a free version. It's really cool and it's really nice, and then we use iTunes to add text and images to audio and Jing to make screencasts and screengrabs, which is really cool, so you can take like pictures of your computer screen, or you can make screencasts, like movies of your computer screen using Jing, and then lastly we use Google Keep to kind of make to-do lists and keep things organized.
Meg: Sounds great, is that also just a week?
Todd: That's also a week, about six days, and that one's more kind of like an arts and crafts one, so no one really makes websites anymore, but it's really fun to use HTML and learn how to make a website from scratch, and you don't have to have any coding skills, so we start from the basics.
Meg: Oh, that's good. Does Module 3 also take a week?
Todd: It does and Module 3, that's completely different. It's Flip the Script, so we teach how to teach synchronously and asynchronously, so synchronously means everybody at the same time and asynchronously means means people learn at different times, and so the main thing there is we're going to show you how to use Mailchimp to make a newsletter, and you can sent out letters, send out lessons via the newsletter, and you can store things in OneDrive just like you did in Drive. OneDrive is by Microsoft, and then we're going to show you how to make some cool quizzes using Kahoot and Quizziz. Those are two softwares online that make really nice quizzes, and also how to make presentations, slide presentations. So most people know about Powerpoint but we're going to looks at Google Slides and Slideshare and also Prezi, and Slideshare is free, but it's linked with LinkedIn, so we're going to talk about that a little bit as well.
Meg: OK, great, so you said this is A to Z and we're up to P. What comes next?
Todd: Module 4, that's kind of one of the cool ones. That's Potent Printables. So we show you how to make paper products and make a paper product interactive, digital, so basically using QR codes and how you can create really cool worksheets or lesson plans - materials - and then all the kids these days have smartphones. How they can access audio, or quizzes or video and have it sync with the paper copy. So first, we're going to use OpenOffice Draw to make some really cool worksheets really quickly that's really fun, and then we're going to show you how to share your work with other teachers online using Pintrest and how to find cool lesson online, and then the most important things is we show how to use QR Stuff and that is how to put a QR Code on a piece of papers, so people can access it on their phone.
Meg: Yeah, nice!
Todd: And we also do SoundCloud. That shows you how you can store audio online and also of course Twitter, if you want to share what you're doing. Share your work online with other students or teachers, you can use Twitter.
Meg: Great awesome! So, one, two, three, four. I think there's a fifth module. Is that right?
Todd: Yeah, that's the last one. It's the big one. It's the one of the future and that's MOOCs. So MOOCs stands for Massive Open Online Course and that (module) shows you how to make a full course based on video, so first you can make videos using Screencast-O-Matic or Screenflow or Camtasia, and then once you have the videos you can create your own lessons online using Teachable or Udemy. You can basically create your own school online and just upload your videos. Or you can put them on Vimeo or Youtube and create playlists.
Meg: Wow, that sounds great. Does that take just a week? That sounds like there's a lot.
Todd: That's the last one. The lessons only take a week, but that's kind of like if you really want to do that going into the future, that's kind of perfect that that's the last week because then you have time to develop your own course. And also on that one, we look at Wordpress and Weebly and Wix, so if you want to have your won dedicated website, those are really good tools to use. And also, if you want to teach synchronously, you want to teach live lessons, we show you how to use Zoom which is like Skype. You can also use Skype, but you can teach lessons online using Zoom and you can use Xoyondo to make appointments to create discussion boards and to create polls, so that's it. We got our A to Z of free.
Meg: A to Z!
Todd: A to Z!
Meg: It seems like there's a lot there.
Todd: So what do you think? Are you ready to take the course?
Meg: I think it sounds great. Let's start with Module 1.
Todd: Awesome. Thanks!
Course Starts June 1st
Course Cost = 40 USD
A to Z List of Free Tech Tools
Answer the following questions about the interview.
Course Contents
Access to daily video and email tutorial
Access to downloadable video library
Feedback on assignments
Access to the course for a year
Course Starts June 12th
Course Cost = 40 USD
Once students register for the class, they will get a welcome email within 24 hours. Each week they will get links to attend classes online and links to lesson materials.
A to Z of Free
All tools used in the class are free or freemium!


About the Teacher
My name is Todd Beuckens and I have been an ESL teacher for over 20 years. I have an MA from San Diego State in Learning, Design and Technology.
I have created several online websites to learn language. I use many of the tools listed in the course with my classes on a regular basis.
About the Course
Each module comes with individual video tutorials showing how to create content step-by-step. Students can download the videos for viewing offline if they wish.
Note that students can join the class at anytime. Each module is independent of other modules, so for example a student can join in and start at module three and then take module one the next time it comes around in the cycle.
Once a student has paid for a course, they can take it as many times as they like.
Each lesson, the instructor will challenge the students to complete an assignment, such as make a worksheet or create a simple blog. Students do not need to do the assigments to keep up with the course!
All tools and online platforms are free or freemium so students do not need to pay for additional materials.