Chris / Belgium <> Aiste / Lithuania
Hide / Show Transcript ( + / - )
Aiste: Hello! My name is Aiste and I'm from Lithuania. And this is for elllo.org.
Chris: And I am Chris from Belgium. Today's topic is embarrassed. Being embarrassed. Aiste have you ever been embarrassed?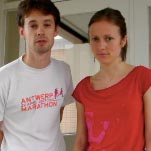 Aiste: Yes, I was many times. And one of those times is when I went to the shop. I wanted to buy eggs in the supermarket. And therefore I was in the food corner, and when I took the eggs, I don't know how it happened but it just suddenly fell down and all the eggs of course were broken. All the people around were looking at me. I felt so embarrassed.
Chris: And once when I was nine, I was in the swimming pool and I was changing, so I was naked in the changing room drying my hair, and I forgot to lock my door and then a girl came in and she saw me. I was very embarrassed.
Aiste: Yes, I would be also.