English Listening Lesson Libary Online
ESL students and teachers can access
2,500+ free lessons
with audio or video, a script, interactive quiz and vocabulary support.
---
Keep Searching


What is ELLLO?
ELLLO! Welcome to English Language Listening Library Online. My name is Todd Beuckens and I have been an ESL teacher for over 20 years. I created ELLLO to help students (and teachers) get free listening lessons online. I post two new lessons each week. Get free lessons and updates via email here .
You can contact me here.
Free Lesson Downloads
Oct 5 - Travel Tips for Denmark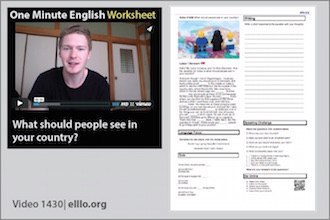 Free printable worksheets for teachers and students looking for in-class or offline materials.
Previous Lessons | Updated Regularly
Oct 4 - Travel to Indonesia
Oct 3 - Taking Tests vs Writing Papers
Oct 2 - What makes a good student?
Oct 1 - What is your favorite animal?
Past Lessons: September 2016