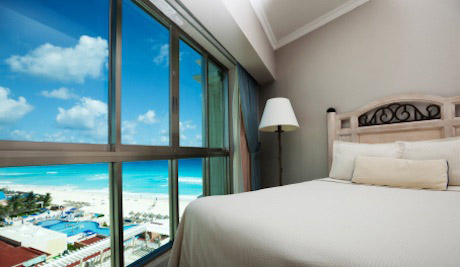 1235 Hotel for Him

Mike talks with Erina about what features he likes in a hotel when he travels.
Transcript
Slide Show
Audio Notes
Erina:
So Mike, you know the other day my friends and I were talking about ideal hotels. What is your ideal hotel?
Mike: Well, there are many hotels that would appeal to me but I'd say my ideal hotel would number one have to have a gorgeous view from the room. And if we're talking about idealistic, I would choose a hotel that is suspended over the water, just off the beach. And my ideal hotel would be not a hotel where the rooms are all connected but rather rooms being separate villas or bungalows and those villas to be situated just above the water so when you wake up in the morning, you're literally above the water already. You're already on the beach and to get from your room to the beach you have to walk out and you wade in the water until you get to the beach, so a place like that, definitely my ideal hotel would be, you know, something like that.
My ideal hotel would have to be situated in nature and I would really love it to have a location that would provide me with opportunities to do a lot of cool activities. You know, perhaps adventure stuff in nature dealing with animals that type of thing, being able to see the local color of the area. So that would probably be my ideal hotel.
One other point I would like to make is that the hotel would have to have unbelievable food and I think a hotel with good food and not just good food but a lot of options for food. So when you wake up in the morning and you go for breakfast buffet, you have a choice of virtually any different type of food that there is. A lot of good hotels are limited to what kind of food they offer even if the food is high quality so that would be another aspect for me that would be quite important for my ideal hotel.
Erina: Yeah, it sounds like a nice hotel what you just described.
Mike: Yeah, absolutely.

Vocabulary notes (text only) explain key vocabulary and phrases from the interview.