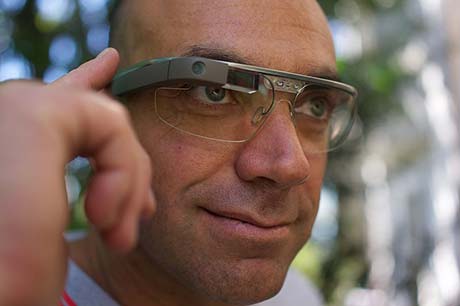 1254 Google Glasses
Josh and Todd talk about the future of computers with the arrival of Google glasses.
Transcript
Slide Show
Audio Notes
Todd: So Josh, in another interview you were talking about Google Glasses.
Josh: Yeah, that's right.
Todd: So, what do you think about Google Glasses?
Josh: Google Glasses. Well, right off the bat I think privacy issues.
Todd: Right.
Josh: Just because probably everyone's read the articles about how it might make there be no privacy.
Todd: Like well explain, like how so? How would there be no privacy?
Josh: Well, if everyone's wearing these glasses and they have cameras on them, you wouldn't know when they have their camera on and when they have it off so if you're just talking with someone on the street they could be recording you and planning some lawsuit against you or anything like that. And if you're not thinking about it then for all you know they're recording whatever you're saying and they could use that against you. And it's hard to be that careful.
Todd: But couldn't you do that with another device? Like you could already do that with hidden cameras or recorders as well, right?
Josh: Yeah, that's absolutely true, which is why a lot of people say it won't be a problem. But the issue is I guess is just if everyone starts wearing them then there's so much footage of everything that the other problem would be if that's all running through Google servers, some people get nervous about Google being able to hand over just loads of video data to the government or to anyone who asks, right, because who knows what they do with it.
Todd: Yeah, that's true. So actually, what can these glasses do? Like what are the functions of the glasses?
Josh: So actually, the functions are really cool and when you watch the video of how they work online, you can see that it'll put a screen in the upper left hand area of your view and it'll look like it's floating in front of you. So then that screen that you see, you'll be able to say things like, "Take a picture" and then you'll see a flash in front of you and then you'll see the picture save to the hard drive of the glasses. And then that screen can also display like a GPS data or it could display text messages or emails, whatever you want. And you just talk to it and you can tell it to scroll down or read it to you or whatever you need it to do. So it's like a virtual assistant that you always have on.
Todd: That sound pretty incredible. What about like just depth perception? It seems to me that it must be really hard for your eyes to be, you know, observing something so close to it. I can't think of anything else where you can see it and it's that close to your eye.
Josh: Yeah, that's right so they're using these new technology in screens. I don't remember the name but it's a micro screen and because the pixels are so small in the screen, your eye will actually be able to pick it up well, it's that's close to your eye.
Todd: That's incredible!
Josh: Yeah, absolutely.
Todd: So, how about these glasses, like would you want to be an early adopter?
Josh: I actually applied to be one because last month they were going to accept 2,000 people to try them out early. And I applied, I didn't get in. You had to have a good story for why you'd want to do that and I didn't spend much time on it but I thought it was interesting.
Todd: So, what was your story? What did you tell them?
Josh: What was my story? Again I didn't spend much time on them but I said that I was in Japan and that being able to travel and have that on, I could take really cool pictures and make interesting YouTube videos or whatever to help other people see what I'm seeing and be able to explore with me.
Todd: Yeah, that sounds like it's pretty competitive. It would be pretty hard to make it the final cost?
Josh: Yeah.
Todd: So do you know the price tag on these glasses, how much they'll cost?
Josh: So Google's actually put a cap on it. They said that it will be under $1500.
Todd: That's it?
Josh: Yeah.
Todd: Wow! And it's basically it has all the power of a computer?
Josh: All the power of a computer with a lot less memory so you will have to go to your computer and upload things. And it will also be connected to the internet. So with 3G, you'll be able to upload things to Facebook, and yeah, basically like a computer.
Todd: Man, that is going to be some future.
Josh: Yeah, interesting.

Vocabulary notes (text only) explain key vocabulary and phrases from the interview.