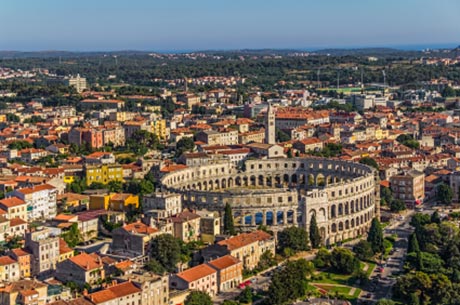 1269 Hometown Critique
Vesna talks about what she likes and dislikes about her town in Croatia.
Transcript
Slide Show
Audio Notes
Karlo: So Vesna, as I understand you live in Croatia, where are you from? What do you like and dislike about your place?
Vesna: Yes, I live in Croatia, in a city named Pula. It is situated in the Istrian peninsula and it's the biggest city in Istria. It counts a population of around 60,000. What I like about Pula is the fact that it's perfectly sized, it's not too big nor too small. And it has all of the civilisation benefits as any Western European city. For example, in the area of education and culture, there is a university, a theater, a cinema, a great number of galleries, museums, libraries, there are some historical sites and so on. Then for example, in the health area, there is a hospital, a number of private clinics, dentist offices, ambulances and pharmacies and so on. There are places to go such as restaurants, bars, exhibitions, concerts, especially in the summer, during various festivals, sport, gastronomic, musical, dance and theatrical events. Also Pula is surrounded by the Adriatic sea, so you can always go to the ... you can always go to the beach or to one of the many beaches, to sunbathe or go fishing or sailing. If you prefer the land you can take a field trip to the surrounding places and discover there, natural and other attractions. Altogether I really love living here.
Karlo: Okay. You only told me about your positive sides of living in Pula, what about your dislikes?
Vesna: Well, like any other place there is no perfection. The downside is that we have a huge traffic problem I would say, especially lately due to some construction projects. So I recommend using public transportation whenever possible or simply going by foot. Some people might say that Pula doesn't exactly have a wild nightlife, but I don't consider it a downside, rather a peaceful alternative to some other tourist destinations. So that's it.
Karlo: Okay, thanks Vesna.
Vesna: Thank you.

Vocabulary notes (text only) explain key vocabulary and phrases from the interview.