Views #1475 | Intermediate 5
Holidays for Fun
Megen and Todd talk about Australia Day, Valentine's Day, and White Day.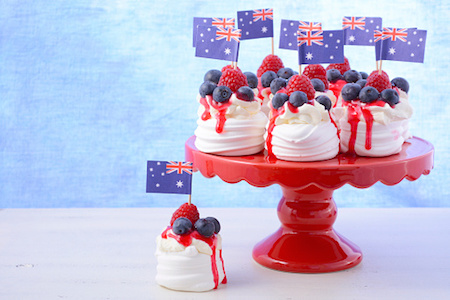 Todd: So what are some fun holidays you celebrate in Australia?
Megen: Well, we have Australia Day. And it is a public holiday, so on that day we go to the beach, and we do various Australian kind of things. We have barbecues and picnics, and it's a day to wear the flag colors.
Todd: So it's your patriotic day?
Megen: Yeah, it is.
Todd: Like our fourth of July.
Megen: Yes, yeah, like that. We don't usually have fireworks though.
Todd: Oh, because of fires?
Megen: No, I don't know why we don't, but I guess fireworks are popular on the Fourth of July right?
Todd: They are, although these days they don't do it so much because of fires.
Megen: Oh, it's summer in July.
Todd: Right, so it's dangerous. ... Um, what about other holidays like for example Valentine's Day? Do you celebrate Valentine's Day?
Megen: Yeah, we do.
Todd: Is it a romantic day?
Megen: Yeah, so for Valentine's Day, usually you'll go out with your partner for dinner ... usually chocolate and flowers. It's pretty extravagant actually. The flowers are becoming more and more extravagant, and people like to send bunches of flowers to their partners work, and there's decorations and a lot of the products in the store are aimed at Valentine's Day I think.
Todd: What do you think of Valentine's Day?
Megen: Well, I didn't want to get caught up in every thing when I was in Australia. I would go out for dinner sometimes, but nothing big.
Todd: Now in Japan they have two days. They have Valentine's Day and they have White Day. Can you explain that?
Megen: Yeah, well, I was surprised that is the day when the girls are supposed to give something to the boys.
Todd: Right, it's reversed.
Megen: Yeah, because I think in Australia on Valentine's Day, it's very important for boys to give something to girls, but not necessarily as important for girls to give something for boys.
Todd: So when do boys give something to girls?
Megen: So that is what White Day is for. So the White Day is the day is the day for the boys to reciprocate the action of giving chocolate or something to their partner, and the students are school as well, they will exchange chocolates or candies that they've made and they will give something back on White Day.
Todd: Yeah, it's kind of nice how they flip it around. I actually like that it's broken up.
Megen: It gives you time to think about what to do, maybe.
Todd: Right, exactly.
Learn vocabulary from the lesson!
The Vocabulary will be recorded and uploaded shortly!
Answer the following questions about the interview.
---