News Stories
Learn English by watching an animaiton of a news report.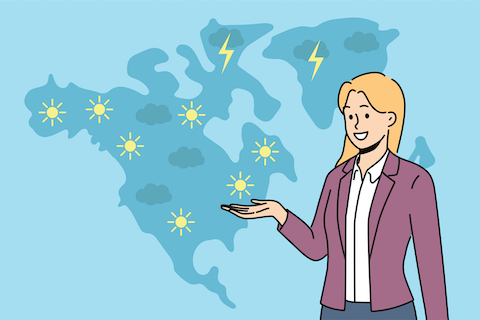 Exploring English and the World with News Center on elllo.org
Are English students looking to learn more about the world while improving their language skills? News Center on elllo.org can be a fantastic resource for them! This special section offers a way to learn English and discover interesting news stories from around the world. Even for beginner English students, News Center provides engaging content to explore.
Discovering What's Inside News Center
Within News Center, there are over 20 engaging lessons designed to help students improve their English. Each lesson includes a video featuring a person who speaks like the news reporters on TV. These videos share six short fictional news stories. The best part is that the videos are quite short, around two minutes each. This means students can easily fit them into their schedules, even during busy times.
The uniqueness of News Center lies in the diversity of the people featured in the videos. These individuals come from different countries, resulting in various ways of speaking English. This gives students the chance to hear different accents and understand how English can be spoken in different parts of the world. Additionally, the news stories cover a wide range of topics, catering to various interests.
Learning Steps with News Center
Learning with News Center is enjoyable and straightforward. There are three steps to follow:
Listening and Watching: At the beginning, students simply need to listen to the video and watch it. The focus here is to understand what the person in the video is saying, without any pressure.

Listening, Watching, and Answering: Next, students can watch the video again while answering questions that accompany it. These questions make the learning process feel like a game and help reinforce memory.

Listening, Watching, and Reading: Finally, students watch the video once more while reading along with the text provided. This practice helps them learn how to pronounce words and understand their meanings better.
Easy Access on Different Devices
Whether students are using a computer, tablet, or smartphone, News Center is accessible on various devices. This flexibility ensures that they can engage with the lessons at their convenience, whether they're on a break, commuting, or relaxing at home. For English students who want to improve their language skills while staying informed about the world, News Center on elllo.org is an excellent place to explore. It offers an exciting learning adventure that introduces new words and enhances understanding of the English language. Enjoy the learning journey with News Center!
---